Supporters of the Curraghs Wildlife Park (SCWP)
In 2019, the Supporters of Curraghs Wildlife Park were keen to develop an area of the Park which is part of the Ballaugh Curragh Area of Special Scientific Interest and a Wetland of International Importance.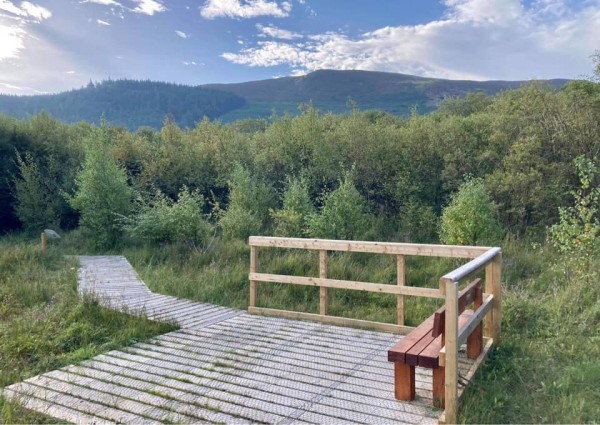 The existing pathways were not easily accessible and there was little to encourage visitors to explore the area. Old information boards were in a poor state of repair and no longer related to the changing environment within the Curragh.
Supporters of Curraghs Wildlife Park (SCWP) applied for a grant from Manx Lottery Trust's Community Fund Programme in 2020 and were pleased to receive £8,500 in order to develop the Curragh Nature Trail. Matched funding was provided by Zurich International whose staff undertook a variety of fundraising activities and also worked on site to improve the pathways, making them easily accessible for wheelchair users and families with buggies.
The Supporters wanted to encourage people to explore this special wetland habitat and have the opportunity to understand more of its natural history and the lives of the people who farmed it in the past. The grant enabled SCWP to install a variety of interpretative materials, designed to appeal to young visitors and adults. Nature Notes feature interesting wildlife facts or suggest a quiet activity and there are brass plaques which can be rubbed to create images of curragh wildlife in a booklet. Visitors can listen to birdsong, farming in the past and more on a solar powered Talking Bench or operate a "u-turnround" to hear wildlife information recorded by local children. A Minibeast Mansion and bat boxes provide extra homes for wildlife but also suggest ways in which people can help wildlife at home. Information panels explain the history of the area and depict the variety of plants and animals onsite.
The Curragh Nature Trail opened in June 2021, much later than originally planned due to challenges presented by the Covid 19 pandemic, including closure of the Wildlife Park and suppliers unable to manufacture items.
A survey of visitors to the Wildlife Park has verified increased use and appreciation of the Curragh Nature Trail including by wheelchair users who could not previously access the area. SCWP has held a Be a Curragh Explorer Day for families which was well attended, and this year they plan to run an event based on the Trail during Manx Wildlife Week. Some of the Supporters who are also Wildlife Park volunteers now lead their walks into the area, in order to raise awareness of it and encourage people to explore it.
Kim Etherton, Chair of SCWP, said: 'This grant from Manx Lottery Trust has enabled us to "bring to life" a special part of the Manx Biosphere whilst also adding positively to the visitor experience at the Curraghs Wildlife Park. We were very grateful to Manx Lottery Trust for their patience and understanding as we wrestled with the challenges of getting things done during the pandemic. It's really wonderful to see visitors exploring the area now and enjoying the peace of the natural environment whilst learning more about it".