BACK TO NEWS
MANX LOTTERY TRUST SUPPORTS POULSOM PARK MAKEOVER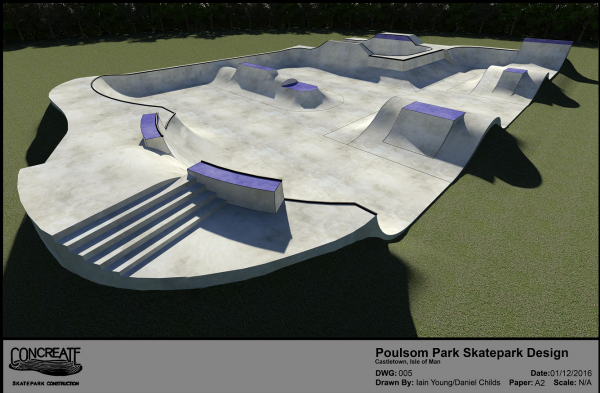 A grant of £50,000 has been awarded by the Manx Lottery Trust as delegated partner of the Big Lottery Fund to help fund a state-of-the-art outdoor skate park facility in the south of the Island.
Castletown Commissioners will use the funding to replace the existing run-down facility in Poulsom Park, Castletown, with an inclusive riding park that has been designed for use by skateboarders and BMX riders, as well as specially designed wheelchairs.
The free-to-use riding facility encompasses Phase 1 of the Poulsom Park regeneration project, with subsequent phases including the creation of an access pathway, fencing, benches, tables, lighting for all year round use and more.
Castletown Commissioner Jimmy Cubbon said: 'In comparison to other parts of the Island, Castletown and the south have a lack of quality outdoor recreational and leisure facilities for young people, outside of the mainstream sports facilities such as AstroTurf and the swimming pool. It needs free-to-use, safe and accessible play areas, which is why we are so grateful to Manx Lottery Trust for its support of this project.
'The arrival of the new facility will benefit the south of the Island enormously and provide young people with the opportunity to be active and social, improving the physical and mental wellbeing of our community. Braddan and Ramsey Skate Parks have proved very successful so we are really excited to get this project up and running.'Chairman of the Manx Lottery Trust Sarah Kelly said: 'The current facility in Poulsom Park is old and almost obsolete, so the need for something new was quite clear. We are sure that the facility will be of great benefit to the local community and look forward to seeing the finished product.'
The regeneration of Poulsom Park is supported by the Isle of Man Constabulary, Manx Sport and Recreation and Department of Education, Sport and Culture.