BACK TO NEWS
BALLAUGH BOWLERS NET NEW EQUIPMENT THANKS TO MANX LOTTERY TRUST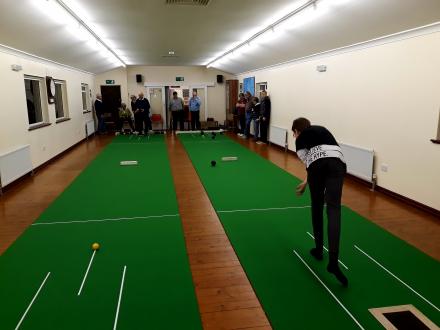 Manx Lottery Trust has funded the purchase of new short mat bowling equipment for Ballaugh Bowling Club.
The two indoor bowling mats have replaced the old mats which were gifted to them almost 20 years ago and have needed replacing for some time. The funding has also been used towards the purchase of a handling unit, cover and ties for the mats.
The bowling club has been running for 33 years and is affiliated to the British Crown Green Bowling Association and the Isle of Man County Crown Green Bowling Association. Situated at the Ballacrosha Estate, the club currently has seven teams; five in the Men's League and two in the Ladies. It also has a strong contingent of juniors who meet on Saturdays.
The arrival of the new equipment will enable the club to extend its season, helping members to stay active and socialise during the winter months. It will also benefit the wider local community, from school children to pensioners, who regularly make use of the indoor facilities.
Richard Faragher, Ballaugh Bowling Club competition secretary, said: 'We are a very busy club with five Crown Green open competitions a year, various club competitions, open days and social events. Manx Youth Games' participants make use of our indoor facilities as do members of the Manx Short Mat Bowling Association, who when necessary use the Ballaugh Facility for National Short Mat events. It is important to us to offer a high standard of play for all, using top class equipment.
'I'd like to say a huge thank you to the Trustees of Manx Lottery Trust for this generous grant. We are hopeful the new equipment will encourage existing players and new participants to get involved and we look forward to our first session with the new mats.
'As an added bonus the old mats will be offered free of charge to other clubs wanting to trial them, so we'll be delighted to see them go to a good home.'
Chairman of Manx Lottery Trust Sarah Kelly said: 'Ballaugh Bowling Club is a long-established club. We are very pleased to fund the purchase of the new equipment and hope both the local and wider community benefits from the facilities.'